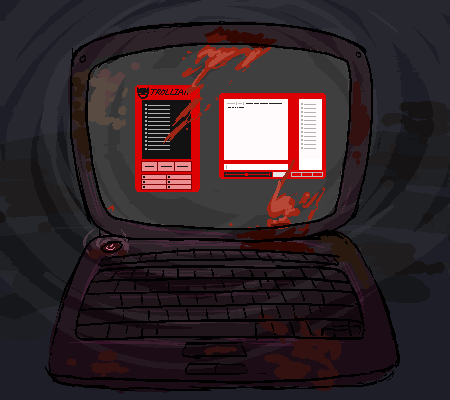 vvvOPEN MEMOvvv
CURRENT carcinoGeneticist [CCG] RIGHT NOW opened memo on board WEIRD SHIT IS GOING DOWN
CCG: HEY IDIOTS.
CCG: IS ANYONE ELSE SEEING THIS SHIT? OR IS IT JUST ME GOING BATSHIT FUCKING INSANE?
CCG: SERIOUSLY YOU GUYS LOOK OUTSIDE YOUR FUCKING WINDOWS. I AM- AND LET ME FUCKING TELL YOU. 
CCG: NO, ACTUALLY, LET ME FUCKING ASK YOU
CCG: WHAT THE SHIT IS GOING ON.
CCG: WHAT THE FUCK ARE THOSE THINGS THAT ARE WALKING AROUND OUT THERE. IS THIS ONE OF THOSE FUCKING STUPID THINGS WHERE SAD, LONELY FUCKTARDS WHO HAVE NOTHING BETTER TO DO WITH THEIR GOD DAMN FUCKING LIVES GET TOGETHER AND PLAY DRESS UP? THEN THEY MARCH DOWN THE STREETS IN A HUGE STUPID FUCKING FOREVERALONE PARADE?!
CCG: BECAUSE IF SO FUCK ALL THOSE NOOKSNIFFERS. THIS ISN'T FUNNY. THEY'RE REALLY STARTING TO FREAK PEOPLE OUT.
CCG: EVEN THE NEWS- THE FUCKING NEWS STATION IS SAYING IT'S PROBABLY BEST TO JUST STAY AWAY FROM THESE FREAKS.
CCG: SO I GUESS THAT'S WHAT I'M GOING TO DO FOR A WHILE. STAY IN HERE UNTIL THESE ASSHOLES CLEAR THE FUCKING STREETS.
CCG: OKAY SO I GUESS I'LL TALK TO YOU GUYS LATER.
CCG: THIS HAS TO BE A JOKE.
CCG: THIS HAS GOT TO BE A FUCKING JOKE…
FUTURE carcinoGeneticist [FCG] 60 HOURS FROM NOW responded to memo.
FCG: I DON'T KNOW HOW MUCH TIME I HAVE SO I AM GOING TO SAY THIS ALL NOW AND HOPE TO FUCKING JEGUS THAT ONE OF YOU GUYS OUT THERE CAN READ THIS.
FCG: THE CITY HAS FALLEN.
FCG: THE ONLY PEOPLE I KNOW WHO HAVE SURVIVED HERE ARE JUST THE ONES I HAVE MET UP WITH.
FCG: SPECIFICALLY GAMZEE, VRISKA, ERIDAN, ARADIA, NEPETA AND THE TWO HUMANS DAVE AND ROSE.
FCG: WELL TECHNICALLY WE HAVEN'T ACTUALLY MET UP WITH NEPETA. SHE'S STILL TRYING TO GET TO US BUT WE ARE IN CONTACT WITH HER VIA OUR ONE CRAPPY LITTLE LAPTOP HERE THAT HAS SOMEHOW MANAGED TO MAINTAIN A DECENT FUCKING INTERNET CONNECTION. GOD FUCKING DAMN SPIDER BITCH DROPPED HER FUCKING CELL PHONE SOMEWHERE SO THE ONLY TIME WE ARE ABLE TO TALK TO HER IS WHEN SHE GETS THE COMPUTER IN THE BUILDING SHE'S IN TO WORK PROPERLY.
FCG: AND DAVE TOO I GUESS. HE SHOULD BE HERE ANY FUCKING MINUTE NOW. WE'RE JUST WAITING ON HIS GOD DAMN ASS OVER HERE.
FCG: ANYWAYS.
FCG: THE POINT OF THIS THING IS TO TRY TO FUCKING CONTACT YOU GUYS. THE ONLY ONES I KNOW FOR A FACT ARE STILL FUCKING ALIVE OUT THERE IS JOHN AND HIS GROUP OF WHAT, 4 OTHER LUCKY BASTARDS WHO MANAGED TO NOT GET THEMSELVES KILLED?
FCG: I REALLY HOPE YOU GUYS WHO AREN'T SAFELY WITH JOHN CAN READ THIS.
FCG: DECENT CONNECTION TO THE INTERNET IS FUCKING HARD TO COME BY AND BEING ABLE TO COMMUNICATE WITH OTHERS IS FUCKING KEY IN THIS FUCKED UP SITUATION WE ARE CURRENTLY FINDING OURSELVES IN.
FCG: FUCK, YOU GUYS.
FCG: WHAT THE FUCK AM I SUPPOSED TO DO.
FCG: THE ONLY THING I CAN THINK OF IS THIS-
FCG: IF ANY OF YOU LONERS OUT THERE ARE READING THIS THEN MY ADVICE TO YOU IS TO HEAD TOWARDS JOHN'S SAD LITTLE ABANDONDED NEIGHBORHOOD.
FCG: WE'RE ALL MEETING THERE.
FCG: OH BY THE WAY, ME AND THE OTHERS HAVE BARACADED OURSELVES IN A FUCKING CONVENIENCE STORE. SOMEHOW THE POWER HAS MANAGED TO STAY ON AND THE FOOD HERE SHOULD KEEP US GOING FOR A WHILE. VRISKA WAS LITTLE MISS FUCKING HERO OF THE DAY AND MANAGED TO SNAG US THIS LAPTOP FROM AN OVERRUN STARBUCKS. IT'S FILTHY AS FUCK AND DOESN'T HAVE MUCH JUICE LEFT IN IT BUT HEY, IT WORKS. THE ONLY PROBLEM IS FUCKING ASSHOLES TRYING TO STEAL OUR FOOD AND OR KICK US OUT OF OUR SPOT.
FCG: AND THE ASSHOLES CURRENTLY WALKING AROUND THE FUCKING STREETS, HALF DECOMPOSED.
FCG: THEY ARE THE BIGGEST PROBLEM.
FCG: OH AND INCASE YOU HAVEN'T FIGURED IT OUT, HERE'S ONE MORE PIECE OF ADVICE FOR YOU GUYS OUT THERE ALL ALONE WHO BY SOME GODDAMN FUCKING MIRACLE ARE READING THIS RIGHT NOW.
FCG: DON'T ENTER THE CITY.
FCG: THERE IS A REASON FOR WHY WE ARE TRYING TO GET THE FUCK OUT.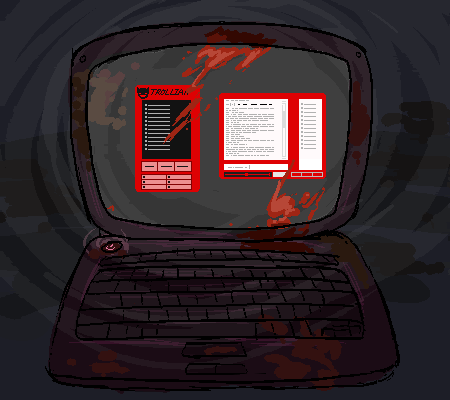 Oh god fucking damn it.